Production data archiving – Historian
WHY DO WE NEED DATA ARCHIVING?
Archiving data
from the production system (e.g. using
Proficy Historian
) is one of the factors that determine the efficient operation of the enterprise, because it enables execution of many tasks related to enterprise management at various levels. In some cases, archiving of specific data may even be required due to legal regulations (e.g.
pharmaceutical
,
food and bev
,
environmental protection
). Collected data are the basis for further analyzes, carried out in several stages with the use of various applications and tools for improving production. These tools belong to various areas of the enterprise - direct control of the production process, operational management, or management at the business level. Data collection is an ongoing process, so any improvement achieved by using this data can be easily observed.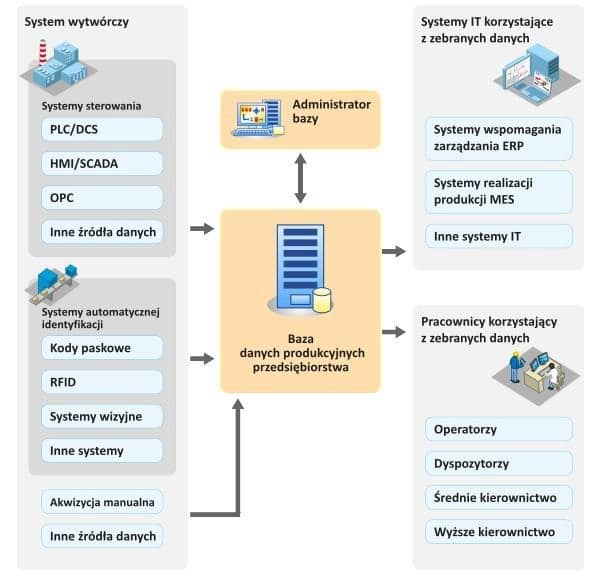 WHAT IS REQUIRED FROM THE ARCHIVING SUBSYSTEM IN A TYPICAL COMPANY::
possibility of direct data acquisition from industrial automation devices and systems (industrial controllers, measuring devices, HMI / SCADA),
cooperation with automatic identification systems (barcode readers, RFID, vision systems, etc.), and devices of common use (smartphones, tablets, laptops),
possibility of data pre-processing to obtain more synthetic information – e.g. automatic aggregation of partial data on the operation of machines in order to obtain an image of the operation of the entire technological line,
compatibility with various industry standards (e.g. OPC), easy expansion and configuration,
high data recording performance (in case of large production systems it is required to record hundreds of thousands of events per second) and compression mechanisms that allows to reduce the size of the data stores,
limiting the need for service activities and easy administration of the base,
high level of reliability and redundancy option for key system elements in critical applications,
possibility of sharing collected data in a convenient form with various types of clients (both to people and other IT systems),
implementation of advanced security mechanisms (user authentication, data encryption, data integrity control, protection against hacker attacks, etc.),
ease of installation and integration with existing systems thanks to the use of internationally accepted communication interfaces and standard input / output systems
reliability and ease of diagnosis,
compliance with international programming standards,
remote monitoring functions to improve maintenance, possibility of direct cooperation with HMI / SCADA software and HMI devices.
PROFICY HISTORIAN – DATABASE FOR THE INDUSTRY
Such formulated requirements are not met by conventional general-purpose databases, which has led to the intensive development of solutions, referred to as industrial or process historian databases. An example of such an advanced, extensive and specialized industrial database is Proficy Historian – it meets all the above-mentioned requirements and has many other features, desired in various industries
WHAT EFFECTS CAN BE EXPECTED?
Using the Proficy Historian can result in:
efficient, reliable and almost maintenance-free data archiving, both in small and very complex production systems,
the ability to record data of many different types, depending on the needs of a specific production system, alarms, events and electronic signatures, as well as manually entered data,
no need to hire a qualified IT specialist as a database administrator, possibility of administration from a web browser,
easy expansion of data sources network,  ability to create dedicated data collectors,
better operation of the production system thanks to direct presentation of key data to appropriate employees,
the ability to interactively create (from the level of a web browser) your own reports, balances, charts and synoptic screens,
seamless integration with other GE Digital solutions, especially the iFIX HMI / SCADA system widely used in the industry,
ability to conduct analyzes and quick reaction to emerging problems (Plant Applications), or even conduct preventive actions (CSense), lower costs of administration and data collection compared to classic databases.
Read the Case Studies from Proficy Historian software implementations and see how plants from various industries in Poland have solved the issue of archiving production data.