Manufacturing Execution Systems (MES)
Efficient management of the execution of production tasks is a key factor that allows the survival and development of the company on a competitive, globalized market. This need gave birth to a new class of software – Manufacturing Execution Systems (MES). These systems connect the business layer of the enterprise with the production layer, providing current data, among others on the degree of implementation of production tasks, the efficiency of machines and devices and the quality of production. Information for the MES system operation should be collected directly from the production process control systems (HMI / SCADA). The use of MES systems allows you to optimize the operation of the production system.
NORMALIZATION IS THE BASIS:
The model structure, concept definitions and functions of the MES system are defined in the ANSI / ISA-95 standard. This standard makes it possible to define which information must be exchanged between the systems supporting sales, finance and logistics, and the systems responsible for production, plant maintenance and quality. ANSI / ISA-95 introduces the concept of enterprise levels and assigns specific functions to them. Various types of industrial processes (discrete, continuous and batch) are taken into account, which allows for: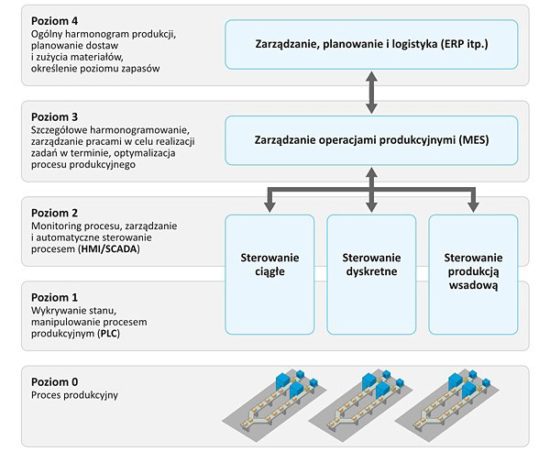 ENTERPRISE LEVELS ACCORDING TO ANSI / ISA-95:
Level 0 covers the physical production process – an object that is influenced by Level 1 actuators, and changes in it are monitored by sensors, also belonging to this level.
Level 2 consists of PLC / DCS and SCADA control systems. Detailed production plans and work instructions or recipes are sent to level 2 systems. In response, these systems provide information such as process variable values, alarms, and completed production tasks.
At level 3 (MES), the operational control of production takes place in order to fulfill the tasks formulated at level 4. Level 3 is to integrate economic information and detailed production data. The MES system should present information directly to the management staff of the enterprise and exchange it with level 4 systems (eg ERP).
PROFICY PLANT APPLICATIONS – ADVANCED MES SYSTEM FOR EVERY COMPANY:
One of the most advanced and popular MES system in the world is Proficy Plant Applications (Plant Apps) by GE Digtial. Its most important features are:
The ability to optimize the performance of the production system through efficient management
Adaptation to the specifics of any enterprise thanks to the manufacturer's experience, long-term development and thousands of customers for whom Plant Apps has already been implemented
Modern, open and layered architecture, allowing for adjustment to the company's structure and solutions used in it on the side of control systems (HMI / SCADA) and the business layer
Flexible pricing model, allowing for multi-stage expansion as the company's needs develop
Various user interfaces, allowing the presentation of data in a convenient form to anyone who needs it
Tight integration with other GE systems – HMI / SCADA iFIX and Cimplicity, Workflow, Historian etc.
Compliance with ANSI / ISA-95 recommendations, allows easy integration with ERP (SAP, etc.) and other systems. These features make Plant Applications the optimal solution for improving production processes in the company. In combination with other software (GE, ERP system, etc.), it creates a complete, integrated, scalable production management system, giving the company a competitive advantage.
MES FUNCTIONS (BY MESA INTERNATIONAL – MANUFACTURING EXECUTION SOLUTIONS ASSOCIATION):
Allocation and control of the status of production resources,
scheduling of operations,
product traffic management,
document flow control,
data acquisition,
employee management,
quality management,
process management,
renovations management,
product tracking and genealogy,
performance analysis.
BENEFITS FROM IMPLEMENTING MES SYSTEMS:
BENEFITS OF IMPLEMENTING A PERFORMANCE MONITORING SYSTEM:
Better resources management (people, equipment, material) thanks to a full review of the parameters constituting the components of the OEE coefficient:
higher production at lower cost.
Precise identification of areas that generate problems:
production analysis based on a shift, equipment or product on the line,
linking expenses with the possible profits that should flow from them.
Make decisions based on data coming straight from the line in order to plan the expenses necessary to improve the existing solution:
minimizing the impact of planned and unplanned events related to downtime of lines or individual machines,
reduction of losses and the need to re-manufacture products,
higher machine working time.
BENEFITS OF IMPLEMENTING A QUALITY MONITORING SYSTEM:
Reduction of  losses and customer complaints
Better use of people, machines and materials
Alarming when warning states are exceeded – by e-mail or SMS
Comparison of production compliance with the assumed specifications
High-quality production
Reports allow you to determine quality indicators for shift.
Quality -time trends in a form that is easy to analyze.
High protection, electronic signatures.
BENEFITS FROM IMPLEMENTING PRODUCTION STANDARDIZATION:
Cost reduction by reducing problems and production losses.
Increase the quality and efficiency of production.
Improve compliance with specifications and improve production quality by implementing Standard Operating Procedures (SOPs).
Reducing the time needed to train employees thanks to electronic instructions.
BENEFITS AND POSSIBILITIES – SCHEDULING MODULE:
Scheduling in an interactive way, using visual tools
Automatic retrieval of production orders and bills of materials from the company's ERP systems
Forecasting times of execution of production orders based on real indicators defining the efficiency and scale of production
Optimizing and balancing the production plan with the state of resources and means of production
Overview of current production orders
Efficient planning of new orders and updating of orders already in progress
Machine load simulation when the production path changes
Accurate, timely information on performance, load, bottlenecks and delivery dates
 BENEFITS AND POSSIBILITIES –  GENEALOGY AND PRODUCTION TRACKING MODULE
Tracking the status of production orders
Tracking resource consumption and transferring information to business systems (ERP)
Full genealogy and production tracking (products and materials throughout the production cycle – identification of production in progress)
Real-time WIP analyzes and production status on each device / machine
READ MORE ABOUT PROFICY PLANT APPLICATIONS >>