Proficy iFIX 2022

New version of GE Digital's  SCADA system
One of the most popular SCADA applications - Proficy iFIX, produced by the American giant GE Digital, needs no introduction in this industry. Proficy iFIX is present in nearly 20,000 industrial plants, in 36 industries, in 90 countries around the world. The system provides fast data visibility, high operational efficiency and reliable process control.
Now an open, scalable and flexible client-server system is available in a new version: iFIX 2022!
What's new in Proficy HMI/SCADA iFIX 2022?
The sample systems available from version 6.5,  have been enriched with the Productivity Tools package in the version 2022. User now receives access to additional sample applications for the pharmaceutical, chemical and energy industries, showing the wide range of Productivity Tools (such as navigation menu, alarm and event indicator, pan&zoom tool, e.t.c.). Productivity Tools is a suite of enhancements for iFIX that enable faster deployment, improve usability, and make operations easier, faster, and safer.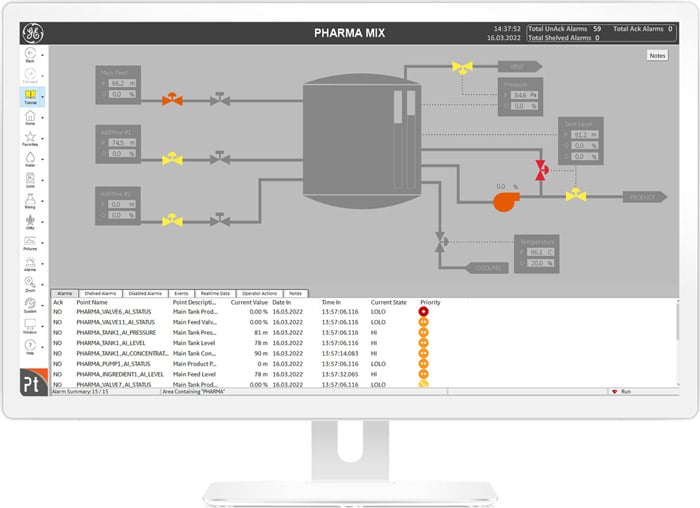 New in Proficy iFIX 2022:
Modeling enhancements (support for symbols and expressions) allow support for a wider range of equipment
Simplified browsing of PLCs and control systems via OPC UA and IGS
Faster update thanks to a modified Quick Installer and a new, integrated installer, enabling simultaneous installation of major GE Digital products: iFIX, Historian, Proficy Licensing, Configuration Hub
Cloud infrastructure support (Azure VM, AWS VM and hybrid cloud), which translates into the possibility of lowering the cost of equipment, centralizing operations and facilitating remote access
Improved single server scale – over 64 000 tags per data type in the iFIX database (2 times more than before!)
Ability to reuse a previously created pictures for other equipment of the same type.
Enhancements in the Alarm Summary tab – the possibility of contextual filtering of alarms based on the model
New, additional protection mechanism (Proficy Authentication – UAA) – enables the use of shared accounts for Proficy iFIX, Proficy Historian (including web tools), Proficy Operations Hub, etc. – an alternative to domain accounts
Support for Microsoft Windows 11 and Microsoft Windows Server 2022
What else does Proficy iFIX 2022 offer?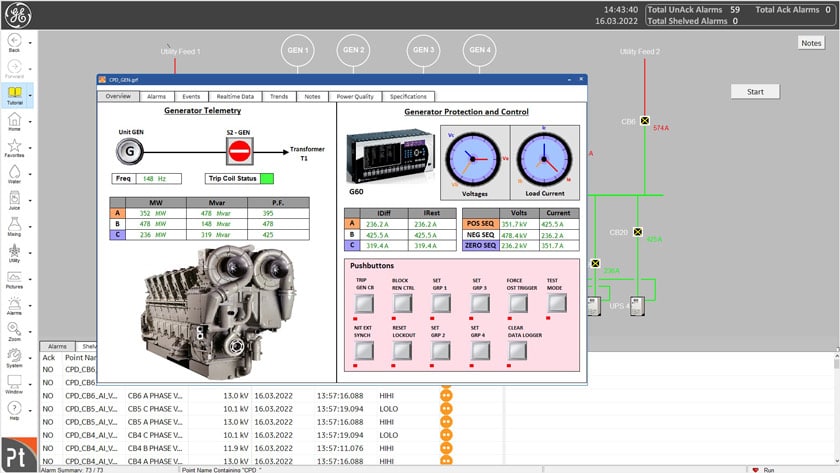 High performance HMI/SCADA
The aforementioned sample systems and an extensive database of predefined objects and templates, designed in accordance with the High Performance HMI concept, as well as functions based on ISA standards (high-performance dynamos, alarm shelving  and model-based visualization) significantly reduce the time and cost of creating effective SCADA pictures, with the right UX. This translates into improved operator response speed and, as a result, longer uptime and better quality.
Speed development with Configuration Hub
IFIX's object orientation in the centralized Configuration Hub web environment enables users to:
connect to structured data sources such as PLCs
browse the PLC asset hierarchy as well as other data sources such as IGS and OPC UA
create objects, model templates such as tanks and pumps, object instances, and PDB tags
use a modern, web-based, structured database manager
visualize iFIX pictures and graphical objects in model context
utomatic tag creation on Proficy iFIX and Historian, greatly reducing configuration time.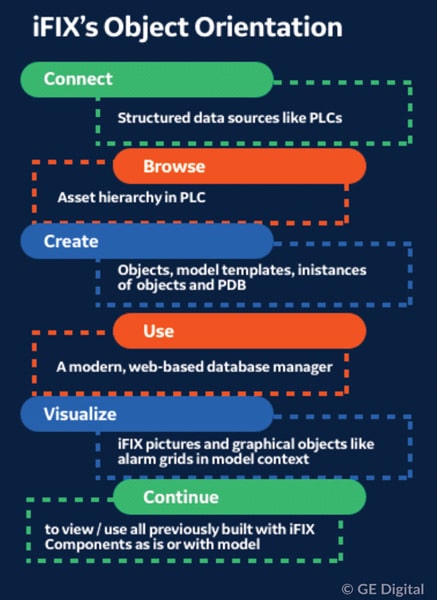 With a unified Proficy development environment you can access and manage the data of all iFIX nodes on the network using digital certificates to ensure a secure connection between the web client and SCADA servers.
Multiple HMI / SCADA programmers can work simultaneously on the same project from a web browser, from anywhere on the network.
Visualization anywhere, anytime
With a wide range of HTML5 compatible clients such as Proficy Webspace and Proficy Operations Hub, Proficy iFIX screens can be accessed anytime, anywhere, on a desktop, tablet or smartphone.
Archiving included
Up to 1000 I/O with the Historian Essentials industrial database.
Intelligent alarming
Even the best operators make mistakes. The use of modern alarm technologies that enable alarm prioritizing enables appropriate actions without undue delay.
Highly extensible architecture, wide communication possibilities
High scalability of SCADA iFIX allows it to be effectively used both in small, single-workstation installations as well as in large network systems with many distributed clients and servers. A wide database of communication drivers ensures a stable and efficient connection of the IFIX system with industrial automation devices.